Marketing to South African Consumers
Synopsis
Marketing to South African Consumers provides core introductory marketing theory underpinned by a contemporary and localised South African perspective. South Africa has a unique hybrid economy with strong formal and informal economies co-existing in a deeply unequal society. This textbook maintains a classic view of marketing theory, but is written with a focus on consumer behaviour. It provides a unique contribution to the marketing textbook landscape, in that it is written by marketing academics, professionals and students, and is focused on making local context a central reference rather than a peripheral addition. The textbook is relevant to any marketer or business owner who would like to gain more understanding of marketing in general and South African consumers in particular.
Abstract views: 33922 [Downloads in brackets]
Chapters
Full Textbook

Preliminary Pages

Part 1

Marketing and Marketing Strategy

Chapter 1: What is Consumer Marketing?

Chapter 2: The Role of Marketing in Delivering Corporate Strategy

Chapter 3: Sustainability in Consumer Marketing

Chapter 4: The Marketer's Micro-Environment

Part 2: The South African Consumer's World

Chapter 5: The South African Consumer Landscape

Chapter 6: The South African Retail Landscape

Chapter 7: The South African Media Landscape

Chapter 8: The South African Macro-Environment

Part 3: Consumer Behaviour

Chapter 9: Drivers of Consumer Behaviour

Chapter 10: Consumer Decision-Making

Part 4: Consumer Marketing Strategy

Chapter 11: Market Segmentation and Targeting

Chapter 12: Positioning and Branding

Part 5: Consumer Marketing Tactics (Strategy Implementation)

Chapter 13: Product Tactics

Chapter 14: Pricing Tactics

Chapter 15: Place (Distribution) Tactics

Chapter 16: Promotion Tactics (Integrated Marketing Communications)

Part 6: Marketing Intelligence (Feedback Loop)

Chapter 17: Market Metrics: The Strategy Feedback Loop

Chapter 18: Market Research and Consumer Insights

Part 7: Tools for Achieving Competitive Advantage

Chapter 19: Vital Skills for Modern Day Consumer Marketers

Chapter 20: Digital Marketing Techniques

Chapter 21: Constructing a Basic Marketing Plan
Downloads
Download data is not yet available.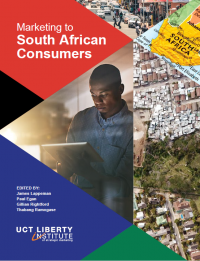 Copyright (c) 2021 Authors
This work is licensed under a Creative Commons Attribution 4.0 International License.
Details about the available publication format: PDF