2020: A Century of Chemical Engineering at UCT
Synopsis
UCT Chemical Engineering marked its 100th anniversary in 2020, with the first explicit curriculum for Chemical Engineering appearing in UCT's Engineering Faculty prospectus in 1920. The department's existence spans a century of massive transition in South Africa and in the profession. We began during an era when political and social ideology denied access to tertiary education for the majority of its population. Today we find ourselves in a country with a multicultural democracy that competes in the global economy. In celebration of this milestone, we have produced a centenary publication that captures our remarkable story for posterity.
Abstract views: 1520 [Downloads in brackets]
Chapters
2020: A Century of Chemical Engineering at UCT
Downloads
Download data is not yet available.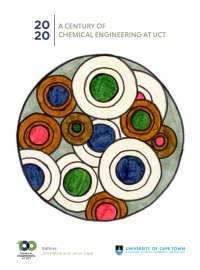 Published
12 February 2021
Copyright (c) 2021 Department of Chemical Engineering, UCT
Details about the available publication format: PDF