Medical Devices Innovation for Africa: enabling industrialisation
Synopsis
FOREWORD
It is with great pleasure to recognise all our partners in the merSETA Viro-Vent Innovation Skills Challenge who contributed to this publication: University of Cape Town, Cape Peninsula University of Technology, University KwaZulu Natal, University of Witwatersrand and National Technologies Implementation Platform.
Thank you, Professor Sivarasu, for your leadership of the University of Cape Town for supporting these efforts to find new forms of collaboration that focus on "Skills for localisation" and "Skills for re-industrialisation".
This publication comes at a time when South Africa and the world are still recovering from the devastating effects of the covid-19 pandemic complicated by an emerging war in Ukraine. This is expected to continue disrupting social and economic activities, including education, training, and work. The merSETA and its stakeholders are working tirelessly to ensure that training and other skills development activities continue despite these challenges.
This innovation project, among others at the merSETA, utilises existing research and Higher Education Institution (HEI) Infrastructure to stimulate rapid response technology innovation aimed at the development, design and prototype production of a medical device in response not only to the COVID-19 pandemic, but also to an economic sector dominated by imports.
To serve the skills development mandate of the merSETA, the project investigates the technology management capabilities or future skills required to accelerate South Africa's post-covid recovery. The concept of innovation, as vested in this program, is aligned to the merSETA's strategic intentions, that include:
i. Supporting skills for Economic Reconstruction, Recovery and Growth,
ii. Supporting skills for the changing world of work,
iii. Supporting skills for the growth and sustainability of the green and circular economies and
iv. Exploring and supporting the role of the mer-sector in the digital economy, as well as
v. Continuing to strengthen the role of the SETA as an intermediary body
Making informed sector skills planning decisions is the objective of this program. – that is, to understand those future jobs that would drive the localisation of components in a model that could stimulate expanded manufacturing opportunities through relevant skills supply. The merSETA's Viro-Vent Innovation Skills Challenge anticipates a contribution towards closing the skills gap through a job generation model.
The merSETA remains committed and is looking forward to engaging on how this initiative sees a pipeline of new product innovations expanding the manufacturing sector. We owe it to the citizens of South Africa to find innovative ways of harnessing our young talent into industrial expansion.
Ms Sebolelo Mokhobo-Nomvete
Acting Chief Operations Officer, merSETA
March 2022
Abstract views: 761 [Downloads in brackets]
Chapters
Table of Contents

Chapter 1: Overview of the mediventors challenge

Chapter 2: Establishing eco-systems in support of medical devices industrialisation

Chapter 3: Medical monitoring wearable technology

Chapter 4: Design and development of a tracking system for autoinjectors using Bluetooth low energy with autonomous emergency alert

Chapter 5: Low-cost load shedding-resilient medicine storage with phase-change material

theoretical heat Transfer evaluation of a design concept

Chapter 6: Development and validation of a medical device software to size autoinjector components

Chapter 7: Development of an integrated covid-19 tracking and monitoring system

Chapter 8: Design and development of an open-source ADL compliant prosthetic arm for trans-radial amputees

Chapter 9: Development of a control algorithm for a bag valve mask ventilator

Chapter 10: Development of an ultraviolet c irradiation device

initial findings for the treatment of spiked whole blood

Chapter 11: The use of hollow fibre membrane dialysers in a liquid-liquid configuration for respiratory support

Chapter 12: Design and development of a bipap non-invasive ventilator

prototype development

Chapter 13: Feasibility of repurposing hollow fibre membrane dialysers for oxygenating blood in resource constrained environments

Chapter 14: Design and development of a cost-effective cpap device with oxygenation and an automated mdi delivery system

Chapter 15: Hospital oxygen tank valve defrosting system

Chapter 16: Development of a peep (catpul) valve for ventilators

a computational approach

Chapter 17: Affordable orthotic moon boot alternative

Chapter 18: The design and devlopment of a low-cost high flow nasal oxygen device

a functional analysis

Chapter 19: Systems integration of a smart iot-based telemonitoring system
Downloads
Download data is not yet available.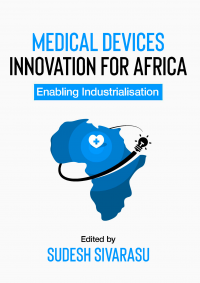 Copyright (c) 2022 The Author(s)
This work is licensed under a Creative Commons Attribution 4.0 International License.
Details about this monograph
ISBN-13 (15)
978-0-7992-2554-9