Paeds in a pinch: a practical guide for students, by students with a specialist review
Synopsis
A practical paediatric guide for students, by students with a specialist review.
Abstract views: 3334 [Downloads in brackets]
Chapters
Full monograph

Preliminary pages

Chapter 1: Genetics and congenital anomalies

Chapter 2: Disorders of development

Chapter 3: Endocrine disorders

Chapter 4: Feeding and fluid management

Chapter 5: Nutritional disorders

Chapter 6: Gastrointestinal disorders

Chapter 7: Cardiovascular diseases

Chapter 8: Respiratory disorders

Chapter 9: Infectious diseases

Chapter 10: Child and adolescent psychiatry

Chapter 11: Neurological disorders

Chapter 12: Musculoskeletal disorders

Chapter 13: Dermatological conditions

Chapter 14: Allergology

Chapter 15: Haematological and oncological conditions

Chapter 16: Poisonings

Chapter 17: Renal disorders
Downloads
Download data is not yet available.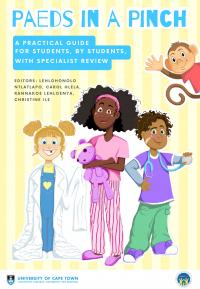 Copyright (c) 2022 Author(s)
This work is licensed under a Creative Commons Attribution 4.0 International License.
Details about the available publication format: PDF