Appendicitis & Appendectomy: A novel dramatised teaching video
Synopsis
Division of Paediatric Surgery, at the University of Cape Town and Red Cross War Memorial Children's Hospital has been in the forefront of modern surgical training by introduction of online training and surgical skills training. The dramatised teaching on surgical conditions is a novel way of teaching rich surgical knowledge through the journey of a patient with a surgical condition from admission to discharge.
This will be beneficial to both undergraduate and postgraduate students and will allow them to experience real life like interactions between patients and trainees as well as trainees and teachers.
The filming of the video took place at the surgical skills training centre located at the Institute of Child Health building, Red Cross War Memorial Children's Hospital.  
This medical video uses, in the main, actors and medically trained personnel. There are no violations with regard to ethics and such was cleared before and post the recording of the film.
The Division would like to acknowledge the Foxwood TV, its producers, directors, and filming crew for their highly professional approach filming a medical training video.
We would like to thank all the Divisional staff for their contributions to the preparation of manuscript, and performance in the video. We also would like to thank Karl Storz Endoscopy for their sponsorship of the episode.
Please note that closed captions are available in the videos. 
Abstract views: 554 [Downloads in brackets]
Downloads
Download data is not yet available.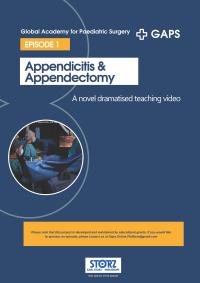 Copyright (c) 2022 Global Academy for Paediatric Surgery