More than Learning: Entrepreneurship at UCT
Synopsis
This book provides a snapshot of the entrepreneurship eco-system at the University of Cape Town (UCT) at a particular point in time. It makes evident that entrepreneurship has been actively nurtured over many years in a wide variety of initiatives within UCT.  This includes undergraduate course-based content across a range of faculties on upper and middle campus, post-graduate degrees focusing on nurturing and developing entrepreneurs, the world-class UCT Graduate School of Business, the exciting new Hasso Plattner Design-Thinking School and the Solution Space, UCT's satellite campus, based in Philippi.  The book makes space for a variety of voices from different contexts across the institution. It celebrates the successes and vision of individuals and initiatives over time, recognising the value of a range of stakeholders within a university ecosystem, and of the value of an institutional culture that encourages entrepreneurship.
The role of the university has shifted significantly , impacted by public demands for access, social justice and transformation in the higher education sphere. Learning is recognised as more than a commodity to be traded for job security.  It incorporates the knowledge that is created, accessed and passed on; the processes that are modelled; the skills, attitudes and values that make up the person and the communities they are part of.
Entrepreneurship at UCT is shown to be a constructive response to student learning within the university – a response requiring a particular mindset and agency to create something new rather than simply to acquire or circulate that which is already in existence. The practice of entrepreneurship at UCT recognises learning as a dynamic process, building value beyond what is known. It is specific to a context and flourishes where communities are focused on building value within the context of South Africa and the continent.
Abstract views: 1773 [Downloads in brackets]
Chapters
Contents Page

Foreword and Introduction

Chapter 1

Chapter 2

Chapter 3

Chapter 4

Full Monograph
Downloads
Download data is not yet available.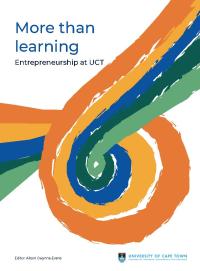 Published
31 January 2023
Copyright (c) 2023 Phumlani Nkontwana; Alison Gwynne-Evans; Ishara Maharaj, Solange Rosa, François Bonnici, Vanessa Ramanjam, Hamieda Parker, Sarah Boyd, Stuart Hendry, Anthony Hill, Richard Perez, Paul Amayo, Frank Karigambe, Carol Ojwang, Mugove Chiwashira, Rowan Spazzoli, Lara Foot, Fahiem Stellenboom, Liani Maasdorp, Saberi Marais, Wasiu Afolabi, Nadia Waggie, Chido Dzinotyiwei, Julian Kanjere, Tshegofatso Masenya, Ndabenhle Ntshangase, Adetola Adebowale, Vuthlarhi Shirindza, Moeketsi Mashibini, Stephen Horn, Eugene Fotso Simo, Mvelo Hlophe, Reitumetse Kholumo, Denislav Marinov, Karabo Thinane, Jasantha Singh, Ebenezer Hutchful, Mia Cilliers, Jackie Ruth Murray, James de Beer, Gokul Nair, Giancarlo Beukes, Siphokazi Mngxunyeni, Rowan Spazzoli, Catherine Gwynne-Evans, Dikatso Sephoti
Details about the available publication format: PDF