UCT Author-date Reference Guide: based on the Harvard Referencing style
Synopsis
An important characteristic of academic writing is the acknowledgement of other writers' words or creations through citing and referencing all sources of information used. Citing is the practice of quoting from, or referring to other writers' works and ideas in one's own text. Referencing is the listing of the full details of the publications that have been cited, so that the reader can find the original sources. Citing and referencing have long been regarded as indicators of academic writing. This guide will facilitate the learning and understanding of the UCT Author-date referencing style, with practical examples from a wide variety of sources.
Abstract views: 2932
Downloads
Download data is not yet available.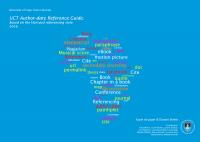 Published
February 10, 2017
Details about this monograph
Co-publisher's ISBN-13 (24)
978-0-7992-2529-7