Emerging Trends in Construction Organisational Practices and Project Management Knowledge Areas: Proceedings of the 9th cidb conference proceedings
Synopsis
The cidb Act mandates the cidb to support human resource development in the construction industry by establishing best practices and advising organs of the state on human resource development in relation to the construction industry. To achieve this, the cidb has since 2004 been collaborating with universities that offer construction management related qualifications to host a successful postgraduate conference series. The cidb is pleased to welcome you to this 9th edition of the cidb Postgraduate Conference hosted by the Department of Construction Economics and Management of the University of Cape Town, in partnership with the Cape Peninsula University of Technology. It is my belief that you will enjoy the conference that comes at a very critical time in our transformation journey as an industry. The main theme of this conference is: Emerging trends in construction organisational practices and project management knowledge areas. These have a direct bearing on the transformation journey of the country as we grapple with how best to create a just, fair and inclusive society where all are equally valued for their contributions, to the nation building project. I sincerely hope that as you debate the emerging trends in construction organisational practices, you will pay special attention to issues of transformation of the industry as well as your roles as academics. The cidb encourages all participants to work together collectively to transform this industry.
Abstract views: 5171 [Downloads in brackets]
Chapters
Section 1: Emerging Trends in Construction Projects Delivery (Chapters 1 - 22 combined)

Chapter 1: The Trends in Construction Output Forecasting Studies Over the last 25 years - Lam, K. C. & Oshodi, O. S.

Chapter 2: Forecasting Construction Demand: A Comparison of Box-Jenkins and Support Vector Machine Model - Lam, K. C. et al.

Chapter 3: Modeling the Relationship Between the Initial Tender Sum, Duration and Final Construction Cost of Building Projects in Nigeria: A Proposed Study - Oboirien, M.O

Chapter 4: Theorizing Speculative Low-Income Housing Development in Developing Countries - Taruvinga, B. G. et. al.

Chapter 5: An Investigation into Studio-Based Pedagogy for Built Environment Graduates: A New Model for a New Context - Bremer, T. & Els, M.

Chapter 6: Challenges in the Delivery of Environmental Sustainability in Housing Development in Abuja, Nigeria - Ishaya, D. A. et al.

Chapter 7: Evaluating the Budgetary Reliability of Design Stage Elemental Cost Plan in Building Procurement: A New Zealand Study - Adafin, J. K. et al.

Chapter 8: Tender Price Index Development: A Critical Literature Review of Models for Prediction - Kissi, E., Adjei-Kumi, T., Badu, E.

Chapter 9: Towards an Integrated Sustainable Procurement Model for the Nigerian Construction Industry: A Review of Stakeholders' Satistisfaction - Ogunsanya, O.A., Aigbavboa, C.O., Thwala, D.W.

Chapter 10: Financial Performance of Multinational Construction Companies in South Africa - Odediran, S.J. & Windapo, A.O.

Chapter 11: Conceptual Framework of Influencing Factors for Design Documentation Quality - Akampurira E. & Windapo, A.O.

Chapter 12: The Role of Public Private Partnerships in the Provision of Infrastructure Projects - Bwanali, S. & Rwelamila, P.D.

Chapter 13: A Study of the Relationship Between Material Waste and Cost Overrun in the Construction Industry - Saidu, I. & Shakantu, W.

Chapter 14: A Concept: Strategic Maintenance Management for Built Facilities of Universities - Adamu, A.D & Shakantu, W.

Chapter 15: Evaluation of the Globalisation Readiness of Medium Sized Contractors in the South African Construction Industry - Anugwo, I.C. & Shakantu, W.M.

Chapter 16: Assessing the Implications of Public Sector Procurement on Construction Health and Safety Management in Zimbabwe - Benviolent, C. & Smallwood, J.

Chapter 17: Framework for Contractors' Bid Success in Nigeria: Swot Approach - Fawale, T.S. & Dada, J.O.

Chapter 18: The Effects of Architectural Design on South African Expanded Public Works Programme Goals - Splaingard, D. R.

Chapter 19: Impediments to Implementation of Green Buildings in South Africa - Saad, M. M.

Chapter 20: The Perceived Barriers to the Construction of Green Buildings in Nelson Mandela Bay, South Africa - Zenios, M. & Allen, C.J.

Chapter 21: The Practice of Design-Build Procurement Method in South Africa - Ilori, B.O. & Talukhaba, A.A.

Chapter 22: Planning, Housing Policy and Low Income Housing Development in South Africa - Musvoto, E.M. & Mooya, M.M.

Section 2: Construction Trends in Strategic Management (Chapters 23 - 54 combined)

Chapter 23: Workers' Safety on Construction Sites: Use of PPEs in Lesotho - Emuze, F. & Khetheng, A.

Chapter 24: Factors that Influence Real Estate Project Investment: Professionals' Standpoint - Abidoye, R.B. & Chan, A.P.C.

Chapter 25: Workers' Perceptions Regarding Health and Safety (H&S) Practices in the Nigerian Construction Industry - Kukoyi, Patricia & Smallwood, John

Chapter 26: Impact of Project Manager's Leadership Competences on Complex Mega Infrastructure Project Performance: A Literature Review - Nyariranwge, Maxwell & Babatunde, Oluwayomi

Chapter 27: The Use of Building Information Modelling and Related Technology in the Cape Town Urban Centre - Pinfold, L.F. & Julius A.

Chapter 28: The Impact of Load Shedding on the Construction Industry in South Africa - Coetzee, D. & Els, M.

Chapter 29: An Exploratory Study into the Influence of Supervisory Reward Techniques on Construction Workers Productivity in Bellville, South Africa - Opperman, A.G & Ndihokubwayo, R

Chapter 30: A Framework for Managing Contextual Influence on Health and Safety in Construction Projects - Umeokafor, N. & Windapo, A.O.

Chapter 31: Risk Management for Multinational Collaborations: Application on the Case Study of Grand Egyptian Museum - Khodeir, L.M. & Ahmed, O.H.

Chapter 32: Trends in Cultural and Societal Management of Cement Mural in Ghana - Micah, V.K.B & Donkor, E.K.

Chapter 33: Employee's Safe Acts Towards Health and Safety Compliance in Ghana - Mustapha, Z., Aigbavboa, C.O. & Thwala, D.W.

Chapter 34: Perceived Risk Impact on Marketing of Construction Professional Services - Ojo, G.K., Ebunoluwa, E.I. & Odediran, S.J.

Chapter 35: Stakeholder Management: A Literature Review of Historical Development and Current Trends - Eyiah-Botwe, E., Aigbavboa, C.O. & Thwala, D.W.

Chapter 36: Building Information Modelling in Nigeria and its Impact on Collaboration in Schematic Design Stage and Post Contract Stage of Design - Onungwa, I.O. & Uduma-Olugu, N.

Chapter 37: Management Style and Quality of Management during Construction Influences on Project Delivery Time - Aiyetan, A.O., Smallwood, J.J. & Shakantu, W.

Chapter 38: Identifying Hazards Facing Workers in Cement Factory in Pretoria - Samuel, S.V., Talukhaba, A.A. & Opaleye,O.S.

Chapter 39: Influence of Constructability and Quality of Management during Design Factors on Project Delivery - Aiyetan, A.O., Smallwood, J.J. & Shakantu, W.

Chapter 40: Women Health and Safety in Construction Industry - Alewi, M.F., Talukhaba, A.A. & Opaleye, O.S.

Chapter 41: Evaluation of Health and Safety Planning Process on Construction Sites in Kaduna Metropolis, Nigeria - Jimoh, R.A., Windapo, A.O. & Omotayo, O.S.

Chapter 42: Impact of Acquisition on Employee and Management Operation: The Case of EPCM Organisation in RSA - Kelani, Y. & Rwelamila, P.D.

Chapter 43: Public Private Partnerships for Roads Maintenance as a Vehicle for Skills Transfer and Enterprise Development in South African Rural Communities - Matshidze, L., Oyegoke, A.S. & Ogunlana, S.

Chapter 44: Effectiveness of Electronic Tendering for Construction Projects - Balogun, A., Talukhaba, A.A. & Opaleye, O.

Chapter 45: The Aspect of Labour in Hybrid and In-situ Concrete Construction in South Africa - Schreuder, J.M. & Wium, J.A.

Chapter 46: Green Architecture for Sustainable development of Urban Buidlings - Adio-Moses, D.A. & Asaolu, O.S.

Chapter 47: Categorization of the Duties and Required Competencies of a Management Contractor - Ayegba, C. & Laryea, S.

Chapter 48: Formulating an Effective Public Private Partnership Policy for Housing Provision in Nigeria Urban Centres: A Conceptual Approach - Gbadegesin, J.T., van der Heijden, H., Boelhouwer, P. & Oladokun, S.O.

Chapter 49: A Factorial Analysis of Safety Performance Measures: A Study among Construction Workers in Gauteng, South Africa - Okoro, C.S., Musonda, I. & Agumba, J.N.

Chapter 50: Quality Management a Fundamental Business Imperative for Construction Companies - Mthi, V.F.P. & Allen, C.J.

Chapter 51: Strategies for Effective Materials Management towards Sustainable Construction Enhancement - Solanke, B.H. & Fapohunda, J.A.

Chapter 52: The Impact of Implementing BIM on AEC Organisational Workflows - Akintola, A., Douman, D., Kleynhans, M. & Maneli, S.

Chapter 53: An Investigation into Supply Chain Management Processes Efficacy and Service Delivery Enhancement in the City Of Johannesburg Metropolitan Municipality - Soni, M.S. & Kajimo-Shakantu, K.

Chapter 54: Evaluating the Impact of Public Sector Targeted Procurement Strategies on the Development of SMEs in the Construction Industry - Adediran, A. & Windapo, A.O.

Section 3: Emerging Trends in Organizational Practices (Chapters 55 - 56 combined)

Chapter 55: The Use of Social Media in Real Estate Transactions in Lagos, Nigeria - Babatunde, T.O., Ajayi, C.A. & Oladokun, T.T.

Chapter 56: Assessment of Growth Challenges among Small and Medium-Sized Construction Firms in Ghana - Arthur-Aidoo, B. M., Aigbavboa, C.O. & Thwala, D.W.
Downloads
Download data is not yet available.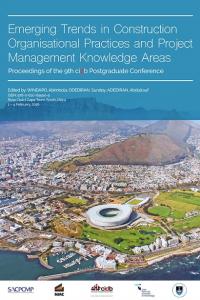 Published
28 October 2016
Copyright (c) 2016 UCT Libraries
This work is licensed under a Creative Commons Attribution-NoDerivatives 4.0 International License.
Details about this monograph